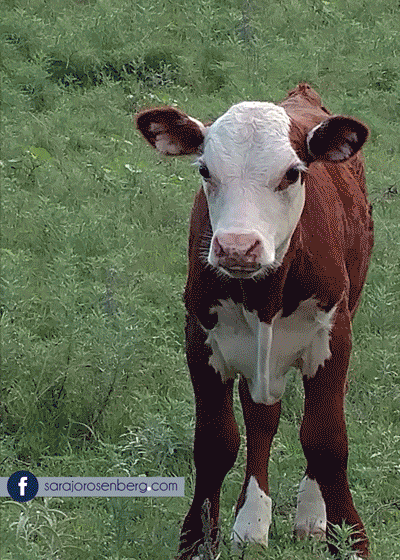 Neighbourhood Entertainment
We spent this spring and summer enjoying watching and trying to feed the little group of calves (about 3-4) on the eight acres of land next to our house. The little calves grew up and the owner moved the fun little group somewhere else. We thought our entertainment had permanently departed for the year... unless you count Brownie and two other adult females of the group who happily eat my weeds I toss over the fence line. about a month ago, a tenacious little calf arrives and boy does he cause a stir. The little guy doesn't listen to any of the cows when called, bounces joyously around the pasture, and curiously approaches the fence-line when our little papillion dog, Mercedes, approaches to see who's around to greet. 
Last of the Little'uns
This little guy just needed to be drawn so in order to do it up right, I wanted the colors to invoke this little guy's lively spirit and tenacious demeanor. I will definitely have it at the October 2017 Arts Goggle!